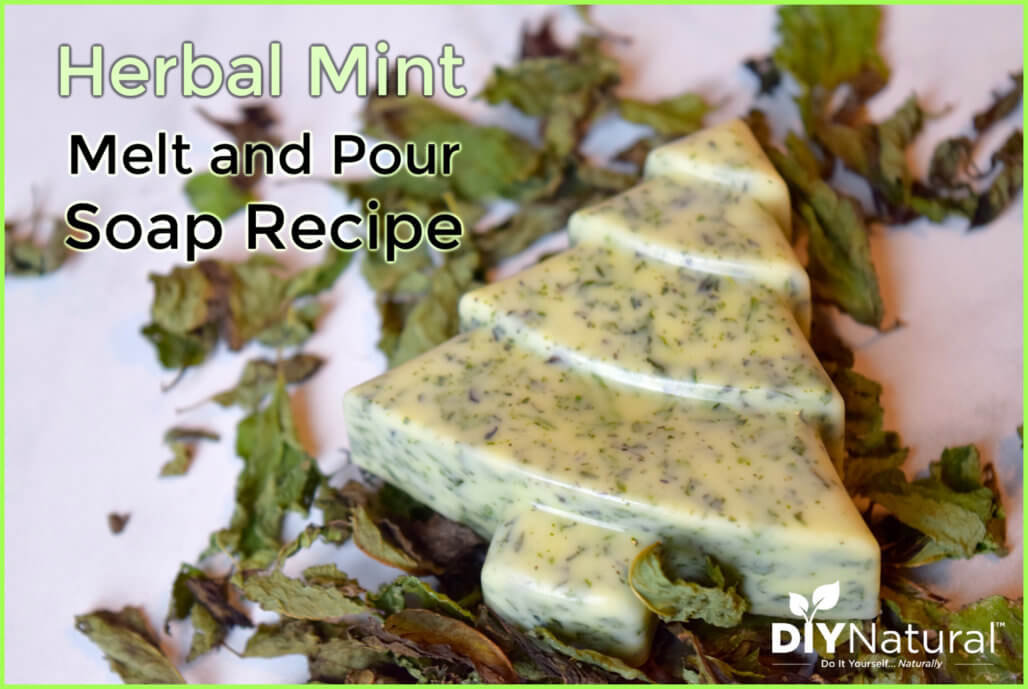 This DIY herbal mint melt and pour soap recipe is made with dried mint and essential oils. This is a great way to easily make your own natural soap at home.
Before I had children, I loved to make cold process soap. From selecting oils and ingredients to curing and cutting bars of soap, it is heavenly!
However, having the time to make cold process soap quickly disappeared when my second son was born. There are days when I miss the smell of freshly made soap.
Making Melt and Pour Soap
One process I continually use to make soap is the melt and pour method. And it's really a great way for any beginner to start.
Customizing Melt and Pour Soap
There are a lot of natural melt and pour soap bases to choose from including glycerin, Castile, goat milk, shea, hemp, and more! Of course, we would encourage you to make glycerin soap base yourself.
Essential oils, herbs, and other ingredients can be added to melt and pour soap bases for unique combinations and inspiring aromas. Check out these 10 Best Herbs to Use in Your Homemade Soaps.
Plus, you can customize your melt and pour soap using silicone molds to make fun shapes. It is a great way to get creative as I did with these holiday hand soaps. (Check out our homemade soap molds.) (Also, these are the soap molds I used for this recipe.)
Ingredients for an Herbal Mint Hand Soap
For this batch, I really wanted to use up some dried mint that had been gifted to me by a neighbor. It has such a lovely fresh mint aroma and I knew it would be perfect in soap because of its gorgeous green color.
I decided to pair it with my favorite goat milk soap base that has a beautiful creamy, white color. It really looks lovely with the dark green mint. (Check out our goat milk soap recipe.)
To enhance the natural minty aroma, I decided to add a small amount of peppermint and spearmint essential oils. I kept my dilution low because these oils can irritate skin.
My dilution rate is about 1% for this recipe. Peppermint has a dermal maximum of 5.4% and spearmint has a dermal maximum of 1.7%, so this recipe is well within those limits.
I chose to keep the dilution so low because both of these essential oils are very potent and they give this soap a lovely mint aroma without being overpowering. Additionally, it gives the dried mint a chance to shine through.
To make the tree shapes, I used two-ounce silicone tree molds. They are the perfect size for hand soaps. Also, silicone molds allow easier un-molding of the soap bars.
You can use whatever molds you like for your soap. However, I generally go with a 2-ounce soap mold for hand soaps. It's a perfect size and fits in the hand easily.
These herbal mint hand soaps make wonderful gifts, especially for the gardener in your life! Package them with a wooden soap deck or with some DIY Vanilla Mint Snowflake Lotion Bars for the perfect gift!
Print
DIY Herbal Mint Melt and Pour Soap
Instructions
Add soap to a glass Pyrex measuring cup, and place in a small saucepan of water on low heat.
Allow soap to melt gently, stirring only as needed. Try to avoid stirring too much as it can cause bubbles.
Once the soap is melted, remove from heat and allow to cool for a minute or two.
Crush dried mint and add to soap, stirring gently.
Add in essential oils and stir to combine.
Pour into molds. I used 2-ounce silicone tree molds.
Cool fully and store in a cool, dry place for 12-24 hours.
Un-mold and allow to dry an additional 24 hours.
Use or store in a cool, dry place.
Notes
Once these soaps are fully dry, they can be packaged in tissue paper, tins, or glass jars for storage.
Do you have a favorite melt and pour soap recipe? Share it below!
*******