Homemade fabric softener and homemade dryer sheets have no strong chemical scents like store brands. Their light, natural smell is awesome!
You're probably familiar with our homemade laundry detergent, so today let's learn how to soften laundry (and save money) with natural homemade fabric softener and homemade dryer sheets.
Also related is our tutorial on how to make wool dryer balls; they're great for reducing drying time, softening clothes, and reducing static cling. You can purchase wool dryer balls here; we recommend buying 2 four-packs.
If you want to learn WHY we make our own, and why you should too, scroll down to find facts revealing how dangerous chemical perfumes in commercial cleaning products really are.
Homemade Fabric Softener
Vinegar is my homemade fabric softener of choice.
Aside from being a natural softener, it also removes soap residue in the washing machine and reduces static in the dryer. You can add vinegar to a Downy ball and throw it in with your laundry, or pour vinegar directly into the fabric softener dispenser if your washing machine has one. I sometimes add 1-2 drops of my favorite essential oil to the vinegar in the softener dispenser.
I like to experiment with combinations of my favorite oils in the laundry. Sweet orange brightens and fights stains, lavender offers a calming effect, and peppermint can help fight tough odors on clothing. Another reason to love making your own homemade fabric softener.
You can pre-mix your fabric-softening vinegar by using the following recipe: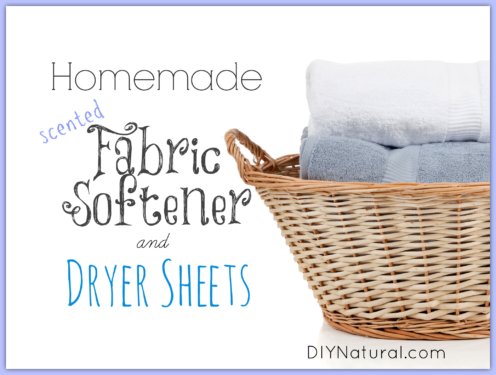 Homemade Fabric Softener Recipe
Homemade fabric softener and homemade dryer sheets have no strong chemical scents like store brands. Their light, natural smell is awesome!
Prep Time

2

minutes
Active Time

2

minutes
Total Time

4

minutes
Servings

1

gallon
Estimated Cost

$3
Instructions
Shake well before each use and add during the start of the rinse cycle.
Top-Loading Washers
Use a ½ cup for small or average loads and ⅔ cup for large loads.
For HE Washers
Use ¼ cup for small or average loads and ⅓ cup for large loads.
Notes
Once dry you will not smell the vinegar from this homemade fabric softener. We use the essential oils for their antibacterial properties and to help disinfect laundry. (Lavender, sweet orange, lemon, and peppermint are all antibacterial.) Essential oils like lemon and sweet orange have also been known to brighten laundry and fight stains. Feel free to leave out essential oils if you wish because vinegar is also antibacterial.
Homemade Dryer Sheets Are Simple Too
Over the past few years, we have researched many alternatives to commercial dryer sheets. That's because there is evidence that toxic fragrance chemicals can be present in commercial dryer sheets that can be absorbed into your skin when you put your clothes on. That convinced us commercial dryer sheets are not the best choice for our family. Also, the cost savings of homemade dryer sheets are an added bonus.
You will love experimenting with different homemade fabric softener scents along the way, and will never have to put dryer sheets on your grocery list again!
Homemade Dryer Sheets
Cut some cotton cloth into small squares. I use 5-inch squares of old cotton t-shirts. Add 3-5 drops of essential oil to your cloth and throw it into the dryer with your laundry.
You can use these cotton dryer sheets for 2 or 3 loads, each time adding 3 more drops of your favorite essential oil. Wash the cloth after a few uses and experiment with a new fragrance. Some of my personal favorites are lavender, lemon, and grapefruit. (Find pure essential oils here.)
Note: These homemade dryer sheets do not soften laundry they are mainly for adding scent. To soften clothes use the homemade fabric softener recipe above. Another way to soften naturally is to use felted wool balls in the dryer, which also decreases static.
Other Ways to Reduce Static Cling
Want to learn how to get rid of static cling naturally? Here are some additional things you can do to:
Dampen hands with water and fluff laundry as it comes out of the dryer to reduce static cling.
Line dry clothing to avoid static cling altogether.
Hang dry clothing made from synthetic fibers. These items create more static in the dryer.
Use felted wool dryer balls to fluff clothing, reduce drying time, and cut down on static. (Learn how to make wool dryer balls or find them on etsy.com – get at least 6 to be used in each load for best results.)
Although I'm unsure of the "natural" factor of aluminum foil in the dryer, this one works! A ball of aluminum foil in the dryer does wonders for decreasing static! It turns into a nice smooth ball and can be left in the dryer for many loads.
I probably spend too much testing and enjoying the laundry aromatherapy. But I'm also enjoying the peace of mind knowing that I am not putting chemicals into my family's laundry! That alone makes homemade fabric softener and homemade dryer sheets worth my time.
Facts About Chemical Perfumes
A recent study revealed that many of the top-selling commercially scented cleaning products – including air fresheners, laundry detergents, fabric softeners, dryer sheets, disinfectants, dish detergents, all-purpose cleaners, soaps, hand sanitizers, lotions, deodorants, and shampoos – emit more than 100 volatile organic compounds (VOCs), including some that are classified as toxic or hazardous by federal laws.
Even products advertised as "green," "natural," or "organic" emitted as many hazardous chemicals as standard ones. That is one of the main reasons to make homemade fabric softener.
From the study:
"Steinemann and colleagues found the average number of VOCs emitted was 17. Each product emitted 1–8 toxic or hazardous chemicals, and close to half (44%) generated at least 1 of 24 carcinogenic hazardous air pollutants, such as acetaldehyde, 1,4-dioxane, formaldehyde, or methylene chloride. These hazardous air pollutants have no safe exposure level, according to the U.S. Environmental Protection Agency. Of the 133 VOCs detected, only ethanol was listed on any label (for 2 products), and only ethanol and 2-butoxyethanol were listed on any Material Safety Data Sheet (for 5 products and 1 product, respectively).


The Consumer Product Safety Commission, which regulates cleaning supplies, air fresheners, and laundry products, currently does not require manufacturers to disclose any ingredients on the label, including fragrances in these products. The same is true for fragrances in personal care items, which are overseen by the Food and Drug Administration. The Household Product Labeling Act, currently under review in the U.S. Senate, would require manufacturers to label consumer products with all ingredients, including fragrance mixtures. "Disclosing all ingredients could be a first step to understanding potential toxicity and health effects," says Steinemann.
Homemade Fabric Softener & Other Products
If all that data doesn't convince you to begin making your own cleaning products, I don't know what will.
Homemade fabric softener and homemade dryer sheets contain only what you choose to put in them – that's part of the beauty of making your own cleaners. Commercial dryer sheets coat your clothing with a thin film of artificial chemical perfumes. Sensitivity to these chemical perfumes decreases over time, but when you stop using them your senses return to normal and you won't believe how noticeable and repulsive the artificial fragrance chemicals are.
Your clothes will take a few wash cycles to lose the coating from commercial detergents and softeners, but the sooner you get started the sooner your family will be free from harsh chemicals and perfumes.
In short, try the above solutions next time you do laundry, we made the switch and will never go back!
Homemade fabric softener is simple and fun to make!
*******
References and Resources