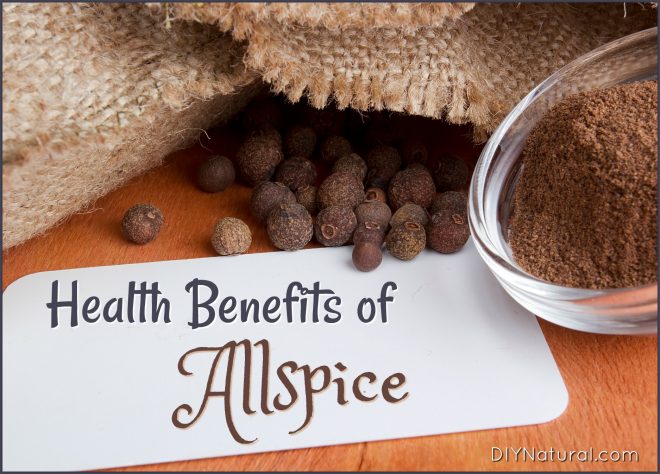 How much do you know about your holiday spices? This past week while I made our traditional spiced nuts I was reminded that all too often we take the health benefits of our "sweet" spices for granted. So I thought I might take some time and tell you more about allspice benefits!
Allspice (Pimento dioica)
For a long time, I thought allspice was just a blend of spices put together somewhere in a factory. I didn't realize that it was actually one plant.
Allspice is also called pimento, new spice, clove pepper, or Jamaica pepper. It is a tree that grows up to 40-feet in the tropics. It has beautiful glossy, leathery leaves and white fragrant flowers. Both the flowers and the leaves are used medicinally where the plant can be harvested fresh. But in commerce, it is the berry that is the primary focus. Allspice is in the myrtle family and is dioecious, meaning it has male and female plants and only produces berries on the females.
The berry of allspice starts out green and becomes blue-black when it is ripe. The ripe berries are said to be amazing in baked goods, but you won't find them anywhere unless you have your own tree in a greenhouse, or a winter home in the tropics. If you do have access to the berries, I understand that they freeze very well and can remain viable for up to one year. More and more people are growing exotic tropical trees in pots in their home, so it is not out of the realm of possibility for you to grow your own allspice.
If you have used allspice this year in your cooking, it was likely grown in Jamaica, Mexico, Trinidad, Cuba, or Honduras. If you don't want to grow your own tropical tree, you might like to know that here in the States we have a common woodland plant (Spice Bush) that has a long history of substituting nicely as a fresh allspice alternative.
Allspice Benefits your Health
It is the unripe berry that is ground and sold as allspice. The resemblance to peppercorns is pretty obvious and explains some of the common names. The smell is like a combination of cinnamon, nutmeg, and cloves. It is high in a variety of volatile oils, which contributes to its abilities as a medicinal. The unfinished fruit contains more than just volatile oils and can boast the following allspice benefits:
increase the production of digestive enzymes
encourage peristalsis
antiseptic
anti-inflammatory
anti-fungal
antioxidant
anesthetic
analgesic
antidepressant
aphrodisiac
stimulant
highly nutritious (contains potassium, manganese, iron, copper, selenium, magnesium, vitamins A, C, B-6, riboflavin, niacin)
Allspice Benefits: A Poultice for Arthritis
Used topically, a poultice of allspice powder can also be used to relieve the pain and inflammation of arthritis.
Mix 2 tablespoons of allspice powder with enough water to make a paste. Smear the mixture onto a soft cloth and apply directly to the affected area. Repeat as often as needed until results are sufficient.
I love my spices, but I must admit that even I have realized there are a few I have neglected to get to know. Hopefully, I've inspired you to make more use of allspice than you have before!
Do you use allspice in your cooking? If so, what are you adding it to?
*******