I've recently been doing a lot of research on herbs and essential oils that are safe for women during pregnancy, and gentle enough for new babies.
Why? Sound the trumpets – Matt and I are expecting our first little one! This is a thrilling time for us as we prepare for the enormous blessing of a new squishy baby in the household.
Along with all the excitement has come some frustration – I have had to avoid many of the herbs and essential oils I normally include in my daily routines. I don't want to take any chances using the wrong thing, so I've left herbs and oils out of things while I took the time to research which are safe.
Thank goodness for a surprise gift I just received. Our friend and fabulously talented staff writer, Nina Nelson, recently completed writing an e-book called DIY Natural Remedies. She sent us a copy to take a peek at, and I'm sure she had no idea what a valued collection of information this ebook would be for me!
Nina has four kids of her own and has a passion for learning about herbs and essential oils. The ebook covers recipes for the entire family, but I was especially excited to see that her book included a section of recipes for babies AND a section dedicated to women's health recipes (with an emphasis on pregnancy/postpartum recipes). Along with recipes, she shares her years of research on which herbs are the safest and most beneficial for babies and mothers.
I'll share five of the herbs highlighted in this ebook that I'll now begin including in things I make for myself or our new baby when he/she arrives.
5 Safe & Useful Herbs for Mothers and Babies
Calendula
This multi-purpose herb is perfect in healing ointments due to its anti-inflammatory properties and ability to speed healing. It soothes irritated skin and is often used in natural first aid remedies.
It is wise to include calendula in things like homemade Diaper Salve, Healing Balm (for mama or baby), Postpartum Bath Herbs for mama, Nipple Salve for breastfeeding, Herbal Bar Soap, and Healing Lip Balm. Each of these recipes can be found in Nina's new ebook.
(Find calendula flowers here.)
Chamomile
Chamomile is a mild herb that's safe even for babies. Its ability to soothe and promote sleep makes it ideal in teas. Nina also states in her book, "It has the ability to penetrate deeply and ease the pain of inflammation."
This herb is used for its soothing properties in many of Nina's recipes, including Earache Oil, Soothing Bath Herbs (for mama/baby), Teething Tea, and can also be included in the Diaper Salve recipe.
(Find chamomile flowers here.)
Lavender
Lavender is one of those gentle herbs that helps promote relaxation and healing. It's one of the few herbs mild enough for use with babies. Mothers love it too for its fragrance and function.
Dried lavender buds can be used in combination with other herbs to help baby deal with the pain of teething, and also provide relaxing/soothing properties to bath herbs that can be used for mama or baby.
(Find dried lavender flowers here.)
Red Raspberry Leaf
This herb is commonly known as a great pre-natal herb, used to gently tone the uterus and provide some much needed minerals during pregnancy. Not only does it contain lots of Vitamin C and Vitamin E, but also iron and calcium. It has also been known to reduce irritations and promote hydration.
Red raspberry leaf can be used in teas during pregnancy and even postpartum for uterine health. Nina includes it in her recipe for Mama's Monthly Tea, and also in Sleep EZ Tea which can be used by mama AND baby.
(Find red raspberry leaf here.)
Marshmallow Root
This mucilaginous root gives products a "slip" which lubricates and soothes skin. It's a very moisturizing herb, perfect for use on delicate or irritated skin. It helps alleviate pain when used in herbal remedies.
Marshmallow root is a helpful ingredient in Nina's Healing Balm – perfect for use on diaper rash and/or postpartum bottom care. It is also a moisturizing, soothing ingredient to use in the herbal bar soap recipe found in this new ebook.
Make Your Own Natural Remedies for New/Expectant Mothers and Babies
Are you expecting a new baby soon? Have you just had one? Or do you have girlfriends or family members who will soon be having their own babies?
It would be awesome to pamper new mothers and babies in your life with fabulous herbal treats you've made yourself, right? Baby shower gifts are always a little more personal when a handmade item or two are thrown in the mix. In the past when I brought gifts to families for their newly born babies, I always tried to include a little something for the new mother. After all, she IS the one who did all the hard work.
Here are some of the items from the new ebook, DIY Natural Remedies, that might be perfect for a new/expectant mama or baby:
Postpartum Bath Herbs
Belly Butter
Diaper Salve
Teething Tea
Pregnancy Tea
Nipple Salve (yeah, this might conjure some laughs, but a breastfeeding mama will appreciate this one)
Click here to get your copy of DIY Natural Remedies so you can get started making some of these simple recipes right now. (Don't miss the 20% coupon code below!)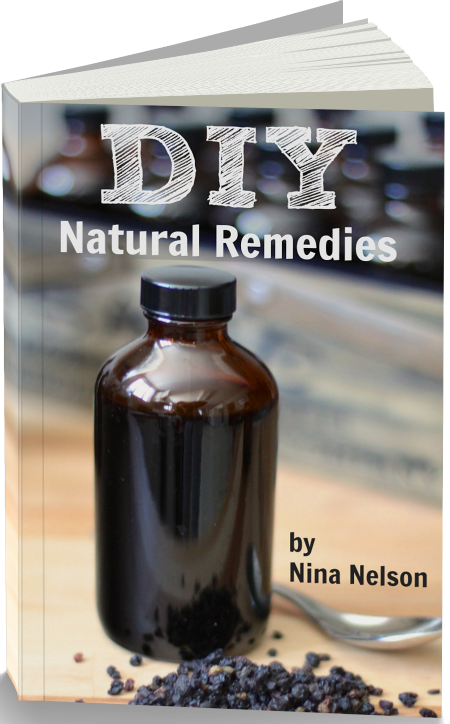 What else can you find in the ebook?
Babies and new mothers aren't the only ones who can benefit from the remedies found in Nina's ebook. She also includes recipes for:
Aches & pains
Allergy relief
Cold & flu
Immune system
Skin
This book is a great one for every member of the family. (I just happen to be partial to the mother/baby recipes right now!) The best part is that the remedies are SIMPLE to make. If you've read any of Nina's articles on our website, you know she's no-nonsense when it comes to her recipes.
Want to SAVE 20% on this new ebook?
Yeah, we're into deals too. So if you're interested in learning more about natural remedies to use with your family, click here to purchase the DIY Natural Remedies ebook and enter coupon code DIY20 at checkout for your 20% discount!
*******